News
September 2017  –  My recently neutered girl, Sugar, is looking for a new home.  Best to go where there are no other cats.  She doesn't have any experience of dogs.  Sugar is three years old and very friendly.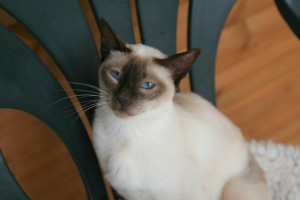 I just had to add a couple of photos of a stud boy which two of my girls have used  (Feb 2016).  He is a gorgeous looking boy.  He is Sandypoints Callum of Chintziam owned by David Cutting, who has the Chintziam prefix, of Little Glemham, Woodbridge, Suffolk.  He was imported from the Sandypoints cattery in Pennsylvania, US,  about a year ago.  He is totally unrelated to our girls here in the UK so he is a great help to the gene pool which is rapidly getting smaller.
Callum has the most beautiful pale silvery blue coat that's without tabby barring. He has lovely ear set and is a solid muscular cat.  He also has the most wonderful temperament.  Not a bad bone in his body.  You can carry him around like a baby for as long as you like and he loves it.